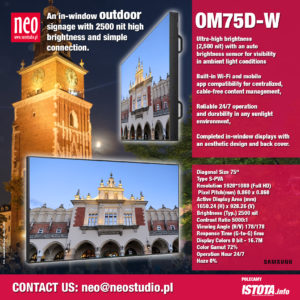 Dostępne "od ręki" zewnętrzne monitory Samsung OM75D.
4 sztuki w świetnej cenie.
Monitory są nowe, nie rozpakowane,
gwarancja standardowa 3 lata.
OM75D-W
An in-window outdoor signage with 2500nit high brightness and simple connection.
Ultra-high brightness (2,500 nit) with an auto brightness sensor for visibility in ambient light conditions
Built-in Wi-Fi and mobile app compatibility for centralized, cable-free content management
Reliable 24/7 operation and durability in any sunlight environment
Completed in-window displays with an aesthetic design and back cover
……………………………………………………………………………………………………………………
GENERAL INFORMATION
H/W SPECIFICATION
basic specs of standard kiosks:
• touch LCD
• PC i3 + Win 10 IOT
Depending on customer's requirements,
River will offer adequate specification
CHASSIS
Type: most kiosks are free standing. Wall, desktop or double sided versions are indicated.Material: black steel, in some cases aluminium, dibond, stainless steel or corian
Finish: powder painted in chosen RAL colour
Logo: sticker or laser cut and LED illuminated Security locks
ADDITIONAL DEVICES
depending on customer's needs, RIVER
will offer kiosks in which all necessary devices
can be installed
SOFTWARE
• SiteKiosks / Kiosk management
• ETO + ETO On-line
/ electronical information board
• diPhoto + diPhoto On-line / photo
• diLustro, diBudka / event
• security trainings for visistors / enterprices
• software developed on request
River will be pleased to provide detailed
information on any of above listed programms
Please contact River to get more details
on required kiosk's functionality or specification.
……………………………………………………………………………………………………………………

……………………………………………………………………………………………………………………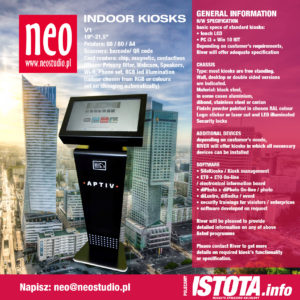 V1
19"-21,5"
Printers: 60 / 80 / A4
Scanners: barcode/ QR code
Card readers: chip, magnetic, contactless
Others: Privacy filter, Webcam, Speakers, Wi-fi, Phone set
RGB led illumination (colour chosen from RGB or colours set on changing automatically)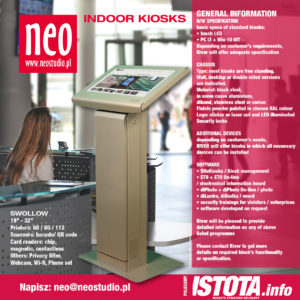 SWOLLOW
19" – 32"
Printers: 60 / 80 / 112
Scanners: bacode/ QR code
Card readers: chip, magnetic, contactless
Others: Privacy filter, Webcam, Wi-fi, Phone set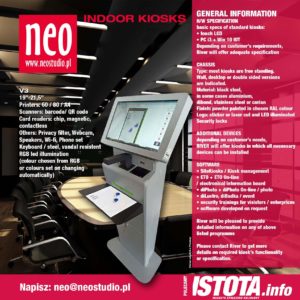 V3
19"-21,5"
Printers: 60 / 80 / A4
Scanners: barcode/ QR code
Card readers: chip, magnetic, contactless
Others: Privacy filter, Webcam, Speakers, Wi-fi, Phone set
Keyboard / steel, vandal resistent
RGB led illumination (colour chosen from RGB
or colours set on changing automatically)
SX
19"-21,5"
Printers: 60 / 80 / A4
Scanners: barcode/ QR code
Card readers: chip, magnetic, contactless
Pin Pad for card payment
Others: Privacy filter, Webcam, Speakers, Wi-fi, Phone set
Keyboard / steel, vandal resistent
RGB led illumination (colour chosen from RGB
or colours set on changing automatically)
27" DESKTOP
27" vertical
Printers: 60 / 80
Scanners: barcode/ QR code
Card readers: chip, magnetic, contactless
Others: Privacy filter, Webcam, Speakers, Wi-fi, Phone set
Posiible vandal resistant keyboard in shelf
EAGLE / MAGNUM, WALL, SHIFT
21" horizontal – 32" vertical
Printers: 60 / 80 / A4
Scanners: barcode/ QR code
Card readers: chip, magnetic, contactless
Pin Pad for card payment. Coin selector,
coin acceptor
Keyboard / steel, vandal resistent
Laser printer
Others: Privacy filter, Webcam, Speakers, Wi-fi, Phone set
WALL: 19"
SHIFT: 19". Change of the height 50 cm.
Adjusted for disabled people / on wheelchair
FLAMINGO
22" + 42" vertical advertizing screen
Printers: 60 / 80 / A4
Scanners: A4, barcode/ QR code
Card readers: chip, magnetic, contactless
Pin Pad for card payment
Signature pad.
Coin selector, coin acceptor
LED light peripherial navigation
Others: Privacy filter, Webcam, Speakers, Wi-fi, Phone set
UniKiosk
21,5" – 49"
Scanners: barcode/ QR code
Card readers: chip, magnetic, contactless
Others: Privacy filter, Webcam, Speakers, Wi-fi, Phone set
Keyboard / steel, vandal resistent
49": Electrical mechanism to adjust monitor
angle managed by arrows in monitor's frame
MAGPIE
31,5" vertical
Printer: 80 mm
Scanners: 2D barcode/ QR code
POS
Wi-fi
ALKA
19"
Printers: 60 / 80 / A4
Scanners: barcode/ QR code
Card readers: chip, magnetic, contactless
Pin Pad for card payment. Coin selector,
coin acceptor
Laser printer
UPS
Additional security lock
Others: Privacy filter, Webcam, Speakers, Wi-fi, Phone set
ETO
(specilized dedicated software
for announcement presenattaion
and remote navigation)
49"
Others: Privacy filter, Webcam, Speakers, Wi-fi, Phone set
LSIK 21,5" – vertical 43"
Scanners: barcode/ QR code
Card readers: chip, magnetic, contactless
Others: Privacy filter, Webcam, Speakers, Wi-fi, Phone set
LSIK LS
43"-49" horizontal
Others: Privacy filter, Webcam,
Speakers, Wi-fi,
Phone set
DS 43" – 82" horizontal
Others: Spekers, RFID,
Wi-fi, Bluetooth
TOUCH TABLE
55"